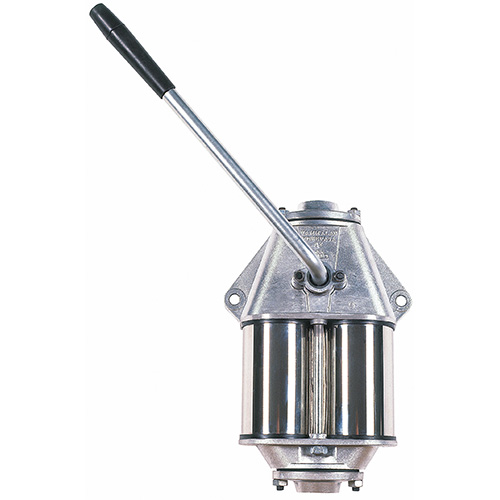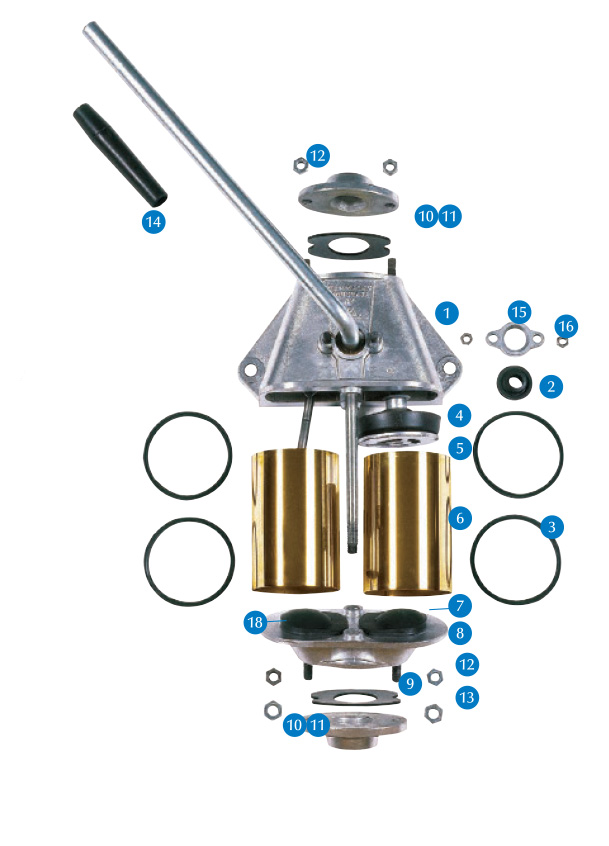 Reliable pump for many applications
The Nira 9 has numerous applications. It can be used in a waterfront sauna, in a garden, in agriculture, or in industry, to name but a few applications. The Nira 9 is mostly rustproof, but is not intended for pumping drinking water. The Nira 9 hand pump is also available with Viton seals, making it possible to use with liquids such as petrol (gasoline).

The pump has a head of 4 metres and, when using the bottom valve, the head extends up to 8 metres. The pump has 1 ¼ " or 1 ½ " threaded flanges. If the pump is used to lift water and is used in an environment in which there is a risk of freezing then the pump must be emptied before the temperature drops below freezing.

The Nira 9 can momentarily take around 3 bar of pressure.  The pump must not be installed in a water mains in which it is constantly under pressure. When briskly pumping, the pump's output is about 60 litres per minute.

When the pump is attached to a fuel tank, make sure the tank cannot empty itself (the siphon effect).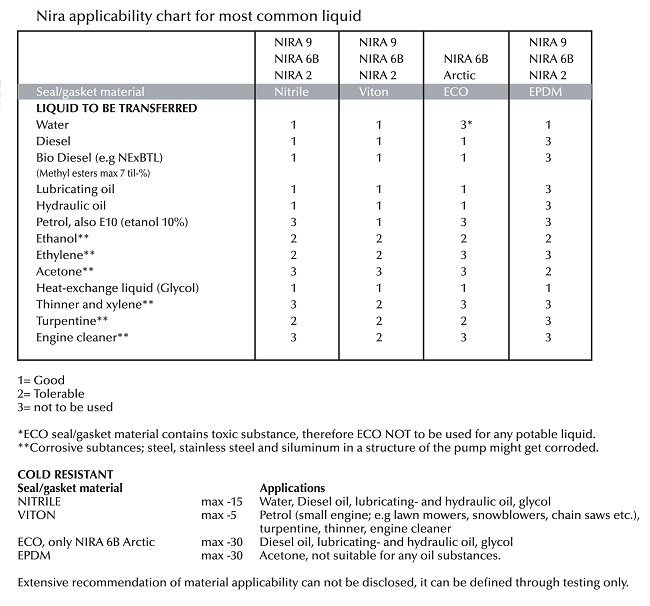 The information is for reference only, a comprehensive knowledge of materials requires testing.
| | |
| --- | --- |
| Material | Silumin casting, steel, stainless steel, viton |
| Suitability | petrol, turpentine, engine cleaners |
| Frost resistance | -5C |
| Weight | 5,8 kg |
| Package | Plasticpack |
| Suction height | 4 m without bottom valve and 8m with bottom valve |
| pumping capacity | 60L /min |
| Pressure | 1 bar |
| Country of Origin | Finland |
Nitrile seals are designed for use with water, diesel, oils, and glycol. Nitrile seals can withstand temperatures of -15 degrees below zero.
You can choose:
-  1 ¼ " or 1 ½ " threaded flanges
Viton seals are designed for petroleum, water, diesel, and oils. Viton seals can withstand temperatures of -5 degrees below zero.
You can choose:
-  1 ¼ " or 1 ½ " threaded flanges