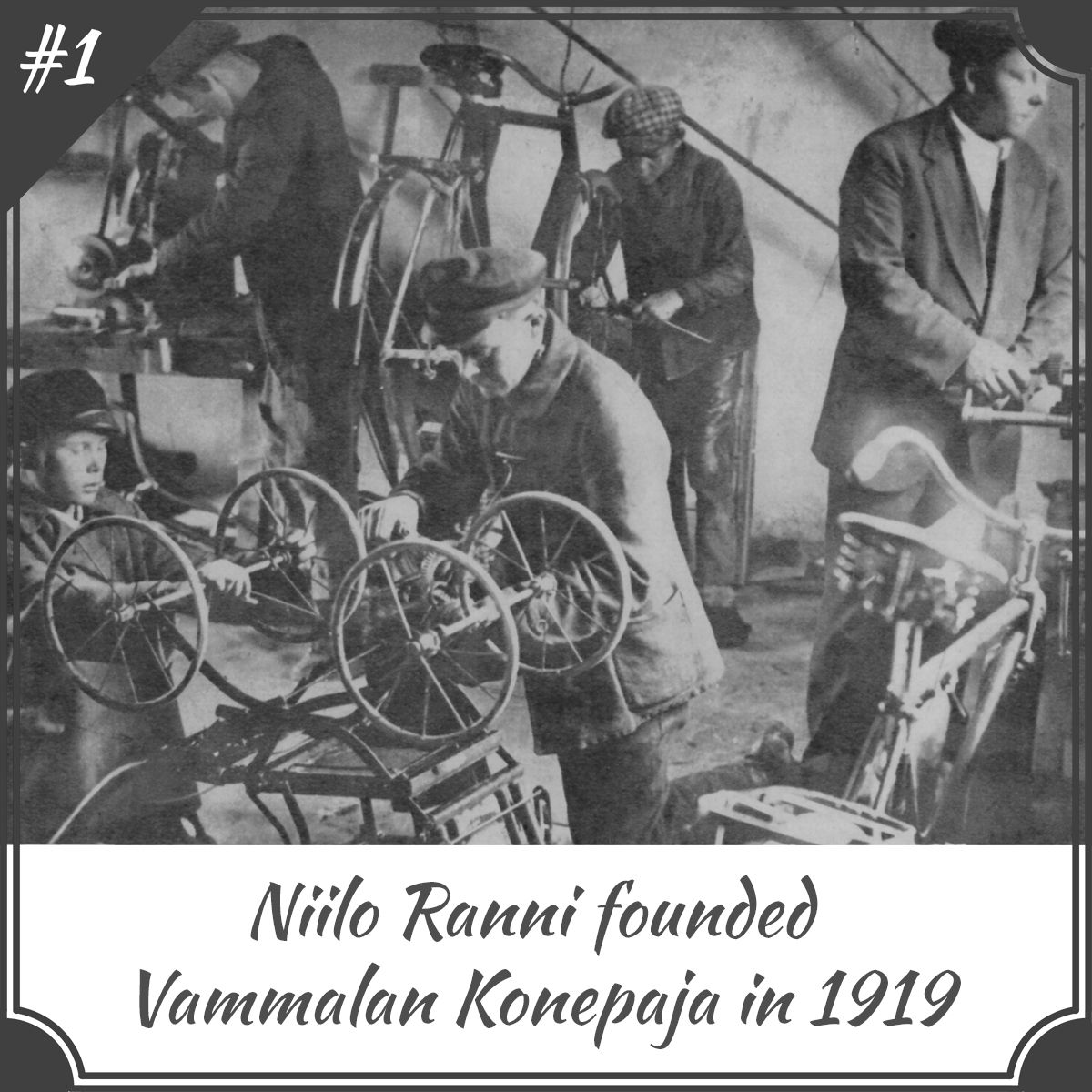 Part 1: 
Niilo Ranni founded Vammalan Konepaja in 1919. Prior to this Ranni worked for a local engineer named Lindström in Vammala. Ranni developed production methods for Lindström, such as for the manufacture of weights for scales. Ranni was a metal worker who had no formal qualifications, but started his own workshop nonetheless. His workshop reflected some of the needs in post-war Finland: many skills and services were needed, and Vammalan Konepaja did its best to fulfil them. The company grew, and only three years later in 1922 Ranni decided to buy his own premises, complete with residence, in the centre of Vammala.
Part 2:

In 1930's Vammalan Konepaja manufactured kick sleds, steelyards, lifting weights and shot puts among others. In 1934, a contract was made between the Finnish Athletics Federation and Vammalan Konepaja, under which Vammalan Konepaja started to make the shot puts used by both men and women in competitions. The contract was signed on behalf of Vammalan Konepaja by entrepreneur Niilo Ranni; signing on behalf of the Athletics Federation was its then chairman, Urho Kekkonen, who would go on to become Finland's eighth president.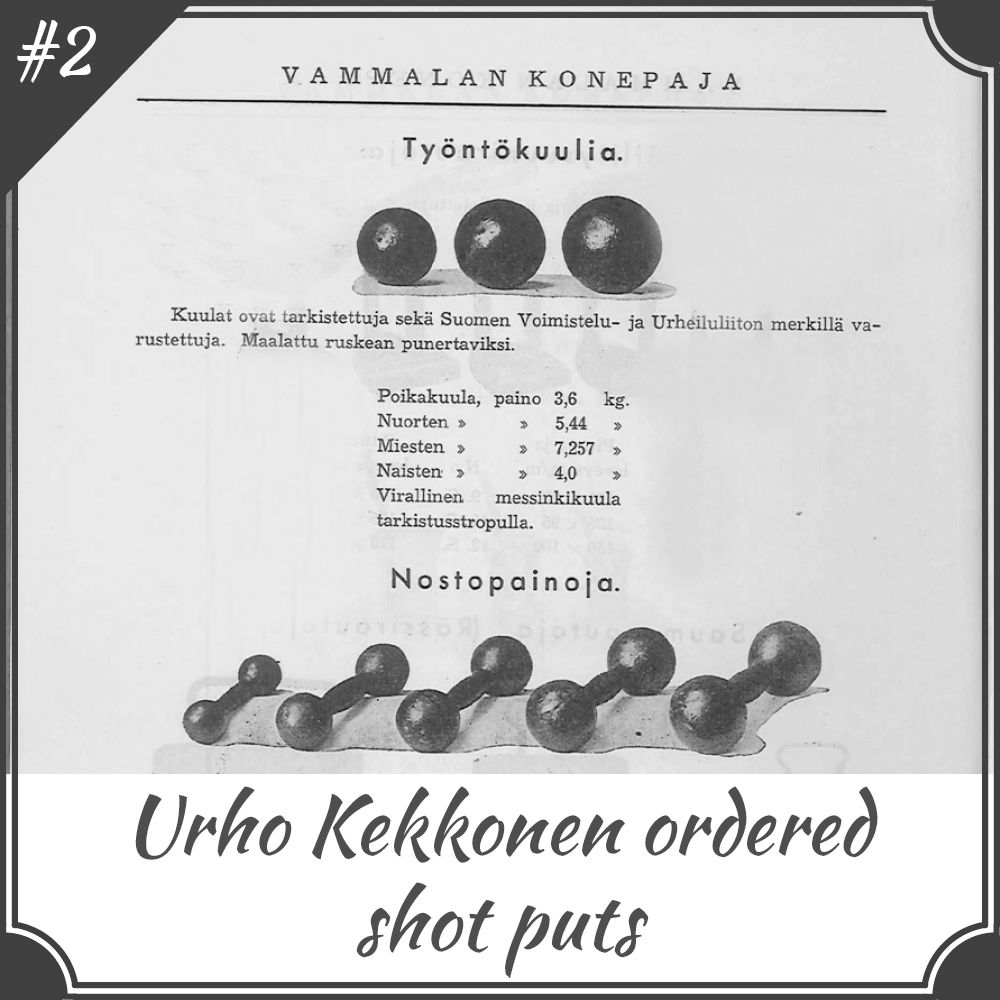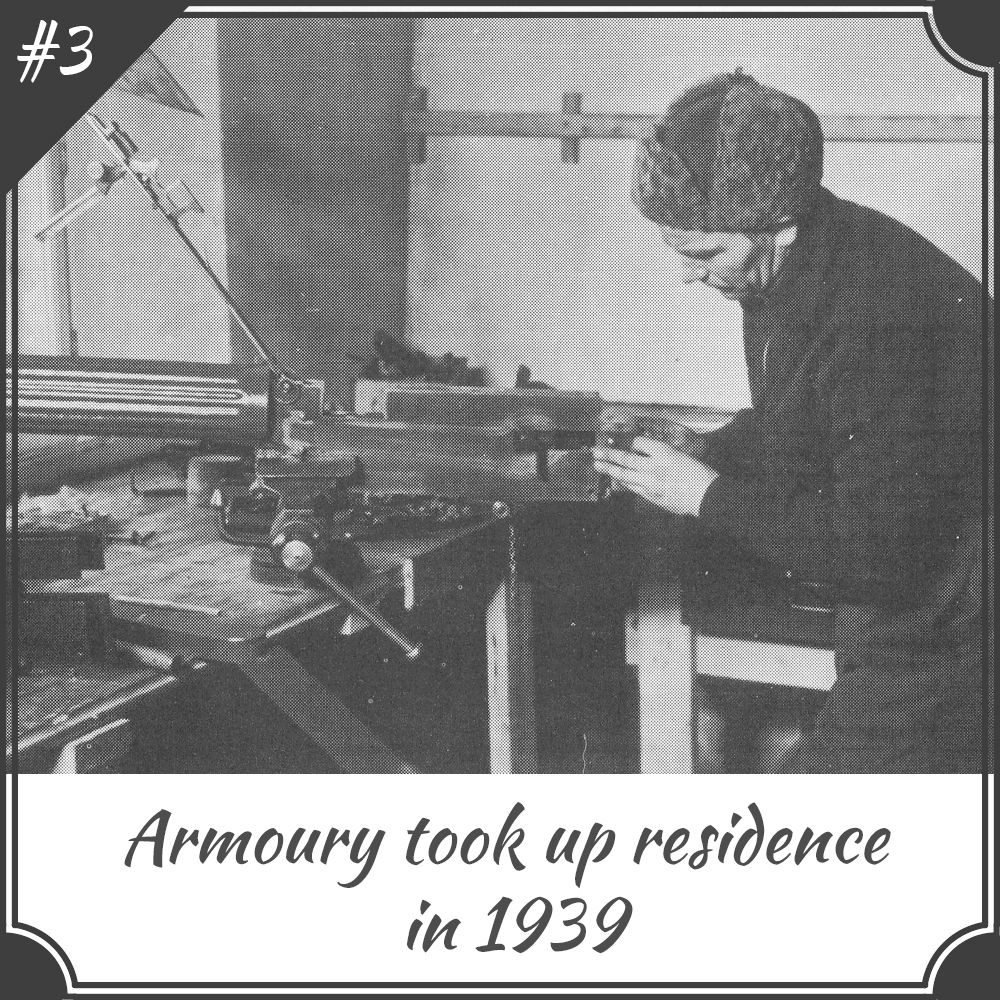 Part 3:
In the late 1930s and the 1940s the Winter War and the Continuation War also affected Vammalan Konepaja's activities. The company had been trading for twenty years when, on the eve of the Winter War, the armoury was moved from the capital to Vammala. Weapons workshop 1 took up residence in Vammalan Konepaja's premises on 3.11.1939. At first, the armoury's role was to prepare M91 rifles and to fix M09 machine guns. Later, the armoury worked with Vammalan Konepaja to make parts for machine gun locks and pistols. It has been estimated that around half the artillery shells fired during the last wars were made in the Vammala armoury. After the wars Konepaja took part in war reparations by manufacturing a variety of machine parts. It was also around this time, in 1943, that the company became a limited company.
Part 4:
In the 1930s and 1940s the most important product for Vammalan Konepaja were pumps for domestic wells. There was much need for NIRA hand pumps after the Continuation War; farms were created in northern and eastern Finland for evacuees from Karjala, and these new farms needed water supplies. At the same time, Vammalan Konepaja concentrated on developing and manufacturing machines needed in home and agriculture. Niilo Ranni ran Vammalan Konepaja for over 30 years. He died in 1953, and his wife Anna Ranni stepped into the role of leading the company. A woman in a position of leadership in a company was very rare in the 1950s.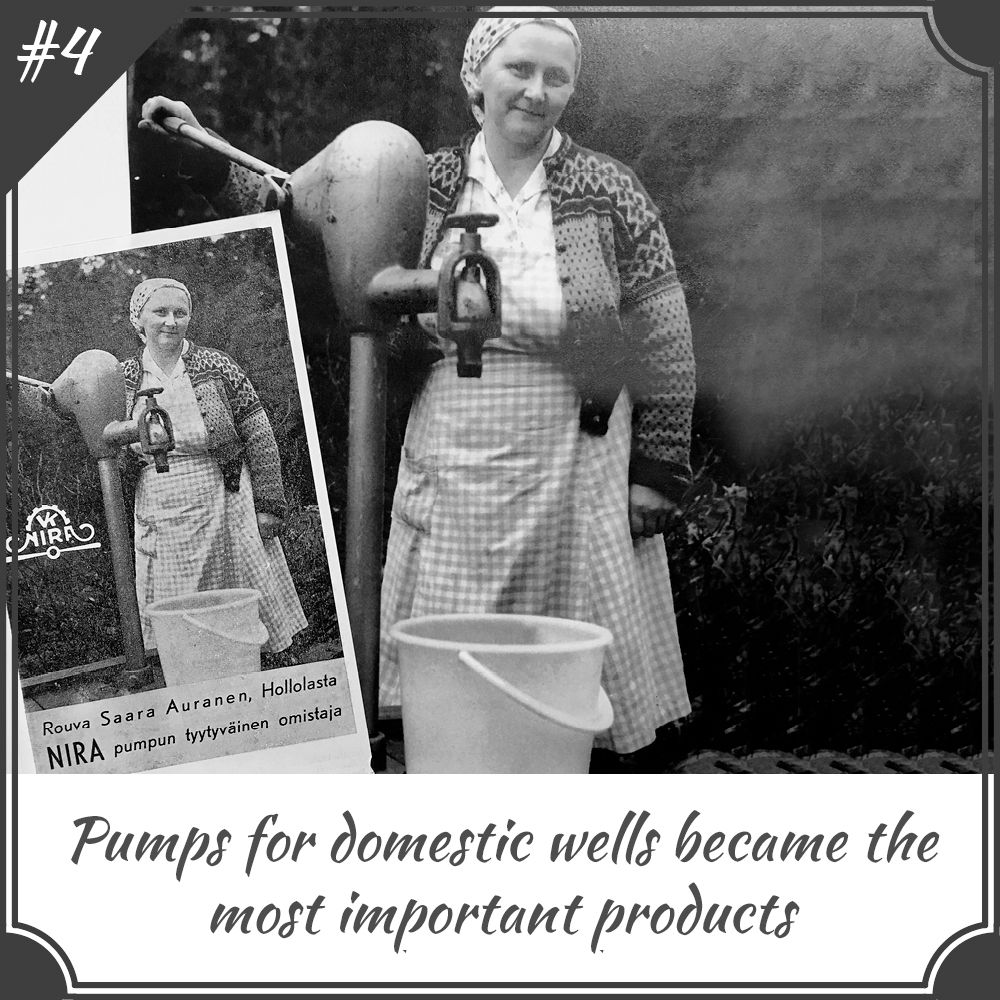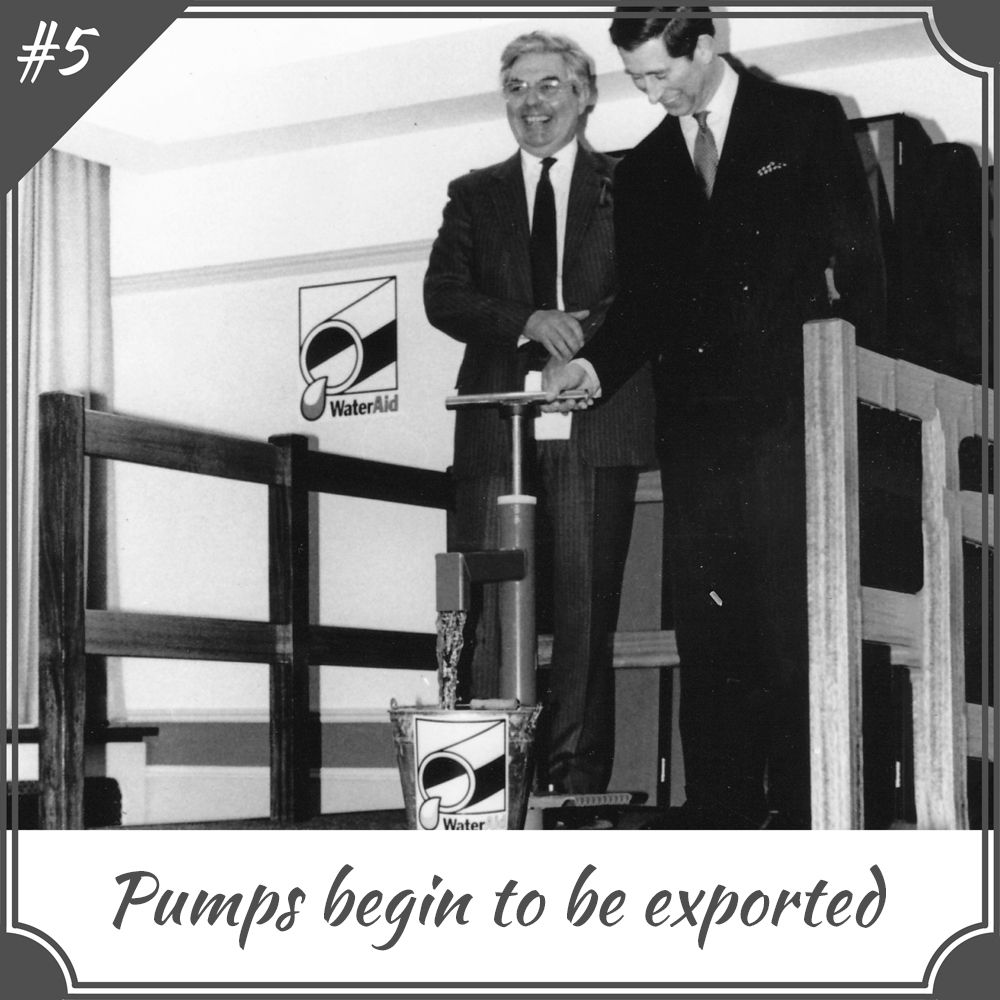 Part 5:

The company's best-selling product, the pressure pump, and the aluminium bodied NIRA 6 pump began to be exported to other countries. In the late 1960s Vammalan Konepaja exhibited its products at trade fairs in Stockholm and Oslo. The NIRA pressure pump was a new kind of product on both the Swedish and Norwegian markets. Marketed as the 'Hyttepumppe', the NIRA 6 pump sold particularly well in the mountainous regions of Norway in the years following the trade fair.

Foundry company Kiikan metalli is established.
There has also been much demand for Vammalan Konepaja's water pumps in Africa. With the help of development aid, the company developed a village water pump and started to export it to Africa, beginning with Tanzania in 1976. The company was introduced to the African market by a Ministry of Foreign Affairs development programme to provide wells. The NIRA AF-85 hand-operated pump was a test-winner in the World Bank's field and laboratory tests, a testimony to the company's successful product development.
Part 6:

Vammalan Konepaja made the move to wellness and medical technology by accident in the beginning of the 1980s. Seppo Suuriniemi, CEO at that time, manufactured a treatment table for her wife's physiotherapy office. The new treatment table became a success and Instrumentarium added it to their selection. Soon the treatment table reached international markets as well. 
Konepaja became known within physiotherapy at the latest when the Swedish team started using Konepaja's treatment and massage tables at the Calgary Olympics in 1988. The treatment tables might have had something to do with the fact that Sweden won four gold medals and two bronze medals in the competitions. But what's even more important, Finland received four gold medals, two bronze medals, as well as one silver medal!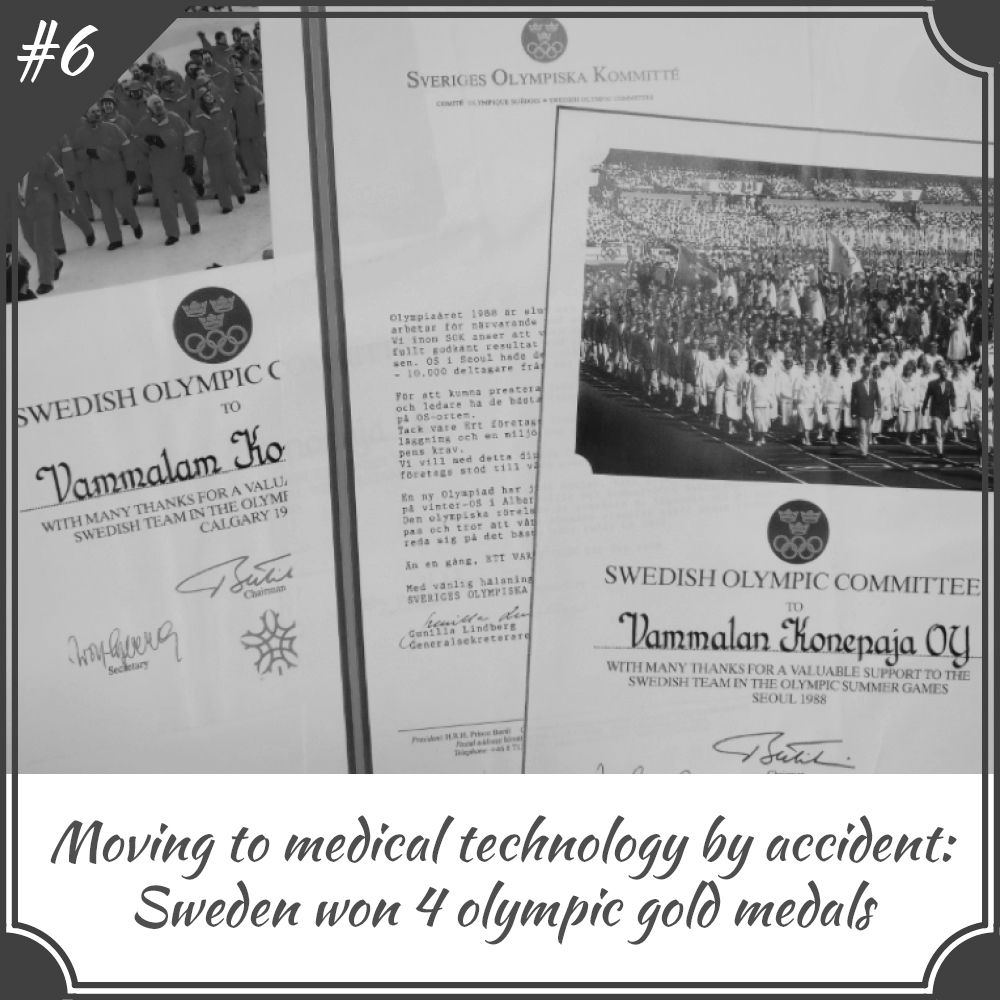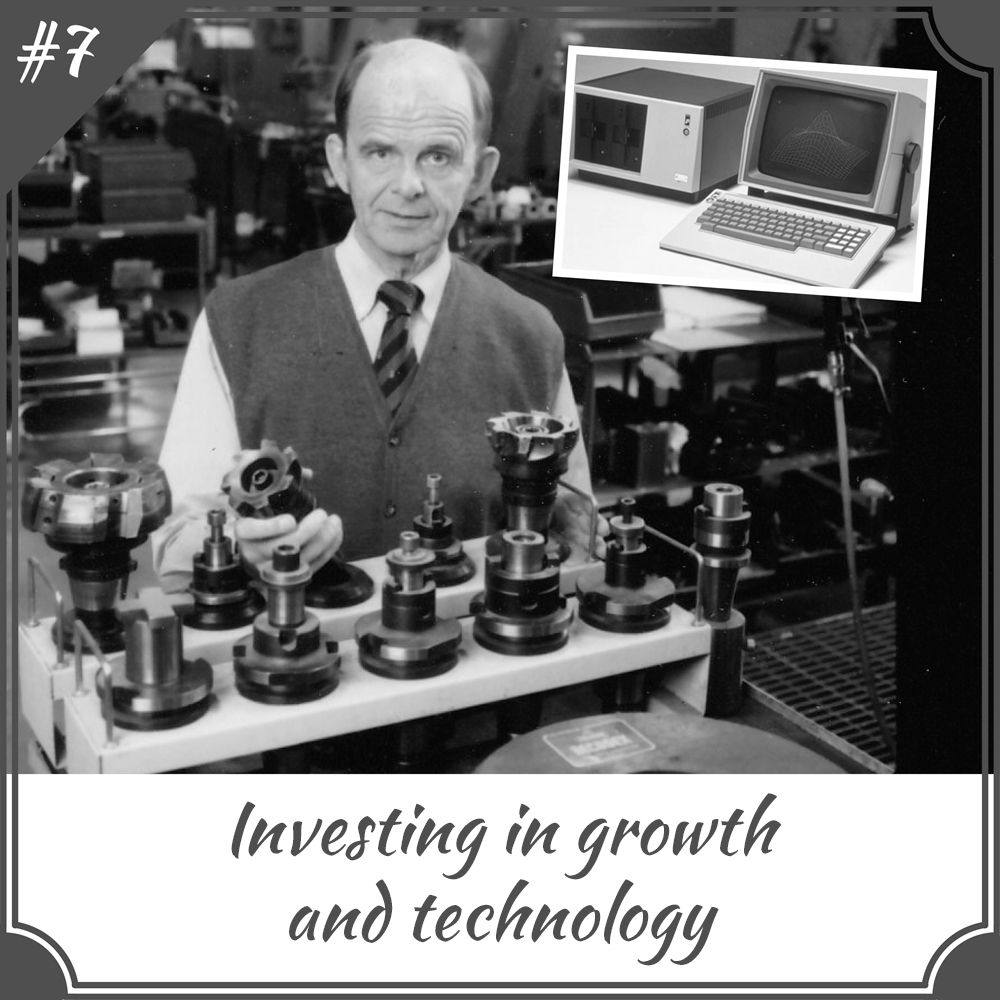 Part 7:
In the 1980s, Konepaja made large investments in electrical mechanics, CNC technology, robot welding and a powder coating line, which enabled the accelerating development of the company. Thanks to its own iron and aluminum foundry and investments in machinery, the company had the possibility to produce all healthcare devices by itself, right from square one.

Vammalan Konepaja wanted to be a trailblazer in the IT field as well, which meant large investments in the latest IT devices. A MikroMikko 1, which was one of the most modern computers of its time, was acquired in 1983. What might one be able to achieve these days with the computer, which was equipped with a 2 MHz processor and a 5 MB hard drive?
Part 8:

In the 1980s and 1990s well pumps were developed for African conditions and particularly for usage that was suitable for women. The pumps were lauded for being easy to use, easy to maintain and also for their durability. In 1991, as much as a quarter of the turnover of Vammalan Konepaja came from developing countries. Therefore, separate factories were set up in Tanzania and Ghana to manufacture the pumps. ⠀
⠀
The President, Tarja Halonen, visited the factory in Tanzania a few decades later in 2003 and was delighted by what she saw: "We're always thinking about how to get companies into the poorest countries; the really poor ones. Everyone knows that there's been no great rush into them. The pump factory of Vammalan Konepaja is a good example of a company that continued operating in Tanzania even after state support to them ended."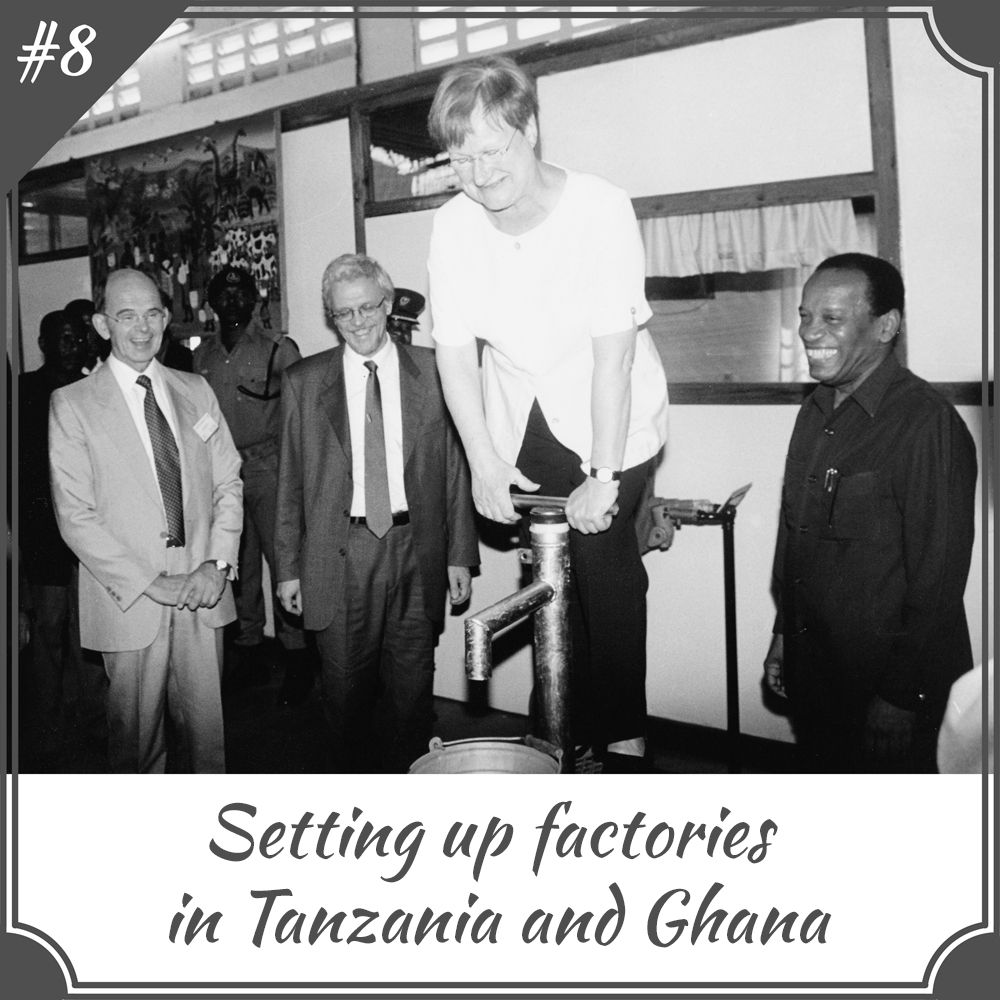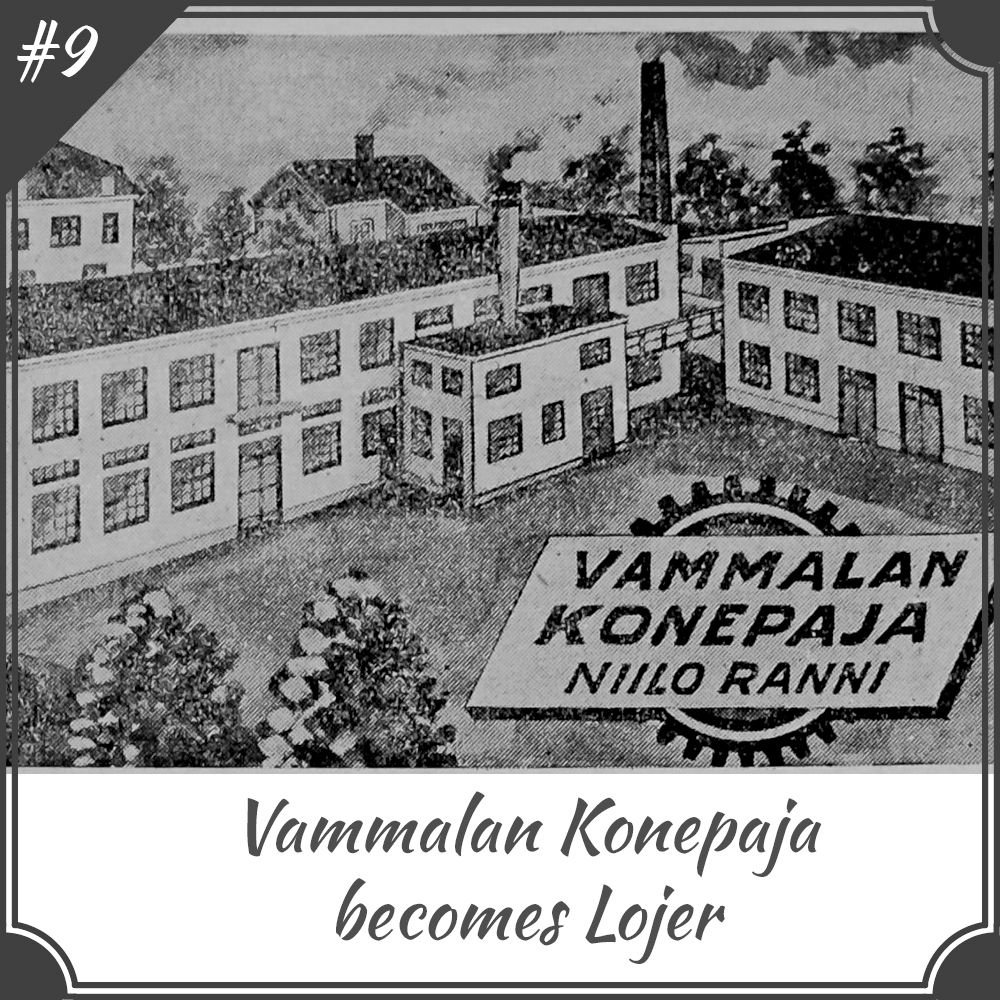 Part 9:
The 21st century was a time of organizational change. The company's name was changed in 2006, when it became Lojer Oy. However, Vammala Konepaja remained an auxiliary name in the manufacture of pumps. In 2008, the name of Kiikan Metalli Oy was changed to Lojer Works Oy.
The Nira 67 well pump was developed in 2007. The pump is a new stylish, stainless pressure pump for well and deepwell.
Part 10:
In 2013, the manufacture of pumps was separated from other business operations and Nira Pumps Oy was established for this purpose. In practice, the manufacture of pumps continued in the same way as before.
The playground pump was developed in 2010. The playground pump is intended for children's playgrounds and parks. The pump does not need a well, it is installed in a pressure network and meets the EN 1176-1 standard.
Product development focused on demanding conditions: heat, cold, technically challenging spaces such as explosive atmospheres. The acid pump was developed in 2017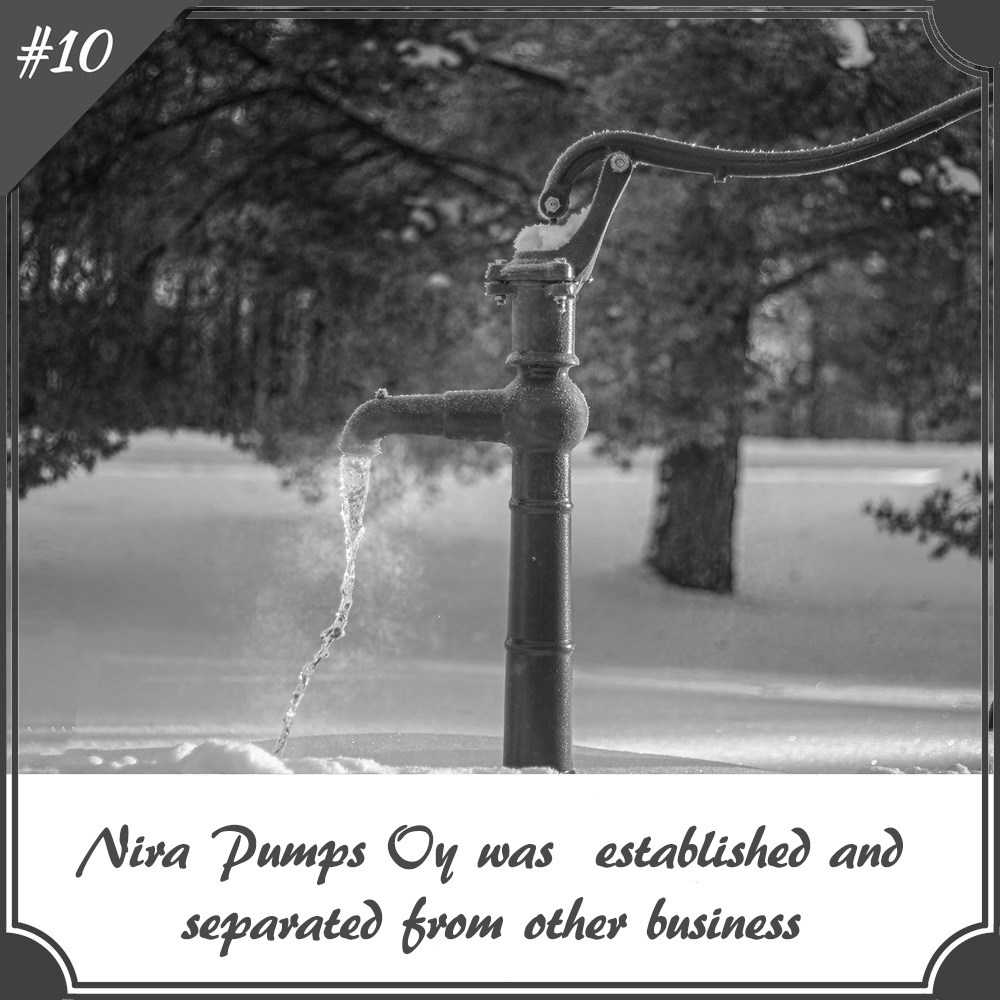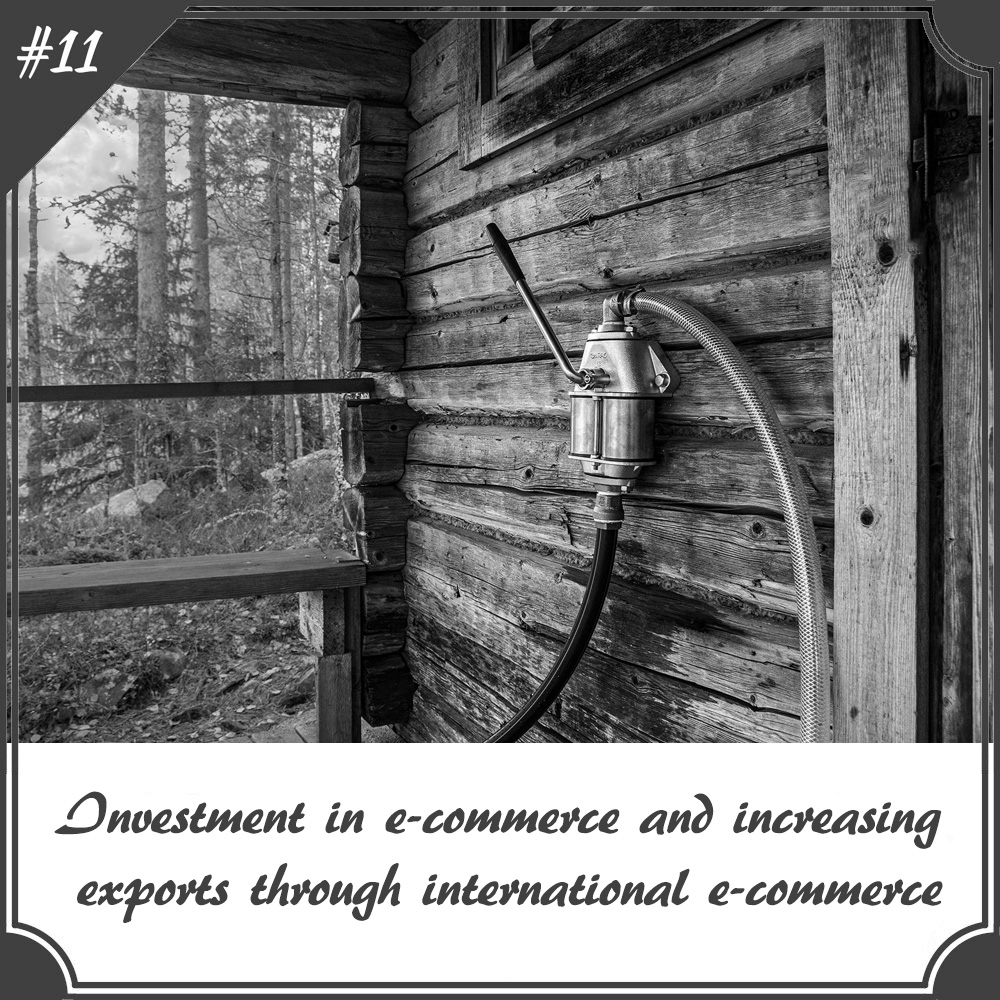 Part 11:
A grounded pump for explosive atmospheres was developed in 2020. Investment in e-commerce and increasing exports through international e-commerce.

The present moment
Pumps for industry, developing countries and playgrounds

Nira Pumps' largest product group is hand pumps for the treatment of fuels, chemicals and other liquids for industrial and agricultural use. They pump fuel additives for fighter jets and helicopters, among other things, and even explosives in mines. The development of mechanical pumps has therefore focused on material choices that ensure that the pump works with different fuels. Sealants are resistant to, among other things, unleaded fuels and biofuels.

The product range also continues to include well pumps from domestic cottages and grandmother's yards for pumping domestic and drinking water, as well as Africa pumps developed in developing countries that can withstand heavy wear and tear, heat and sand.