Hand pumps
Nira hand pumps are the reliable choice for pumping various kinds of liquids in demanding environments and extreme conditions.
Nira hand pumps for machinery and equipment manufacture
Suitable for safely pumping oil, water and fuels in demanding environments, Nira pumps are a reliable solution for hydraulic systems and for pumping liquids for engines and other equipment.

The safe Nira pump works in extreme cold and hot temperatures and will not freeze, corrode or rust even if left dormant for long periods of time. A simple mechanical operating principle, robust materials and surface coatings make Nira pumps a long-life, maintenance-free solution.
Nira - the safe and reliable pump for tanks
Durability in changing conditions is a key feature in fuel tanks and oil tanks. Long life and reliability are also expected of the pumps used at refuelling points and with flammable liquid tanks.

The features and characteristics of Nira hand pumps have been in development for over 90 years. Today's Nira hand pump is the result of this lengthy product development process. Based on a reliable mechanical operating principle and high quality, carefully selected materials, Nira pumps work without fail in extreme cold and heat (-45°C …+50°C), unaffected by dust or humidity. Nira pumps can be used to pump water, a number of oils and many other liquids.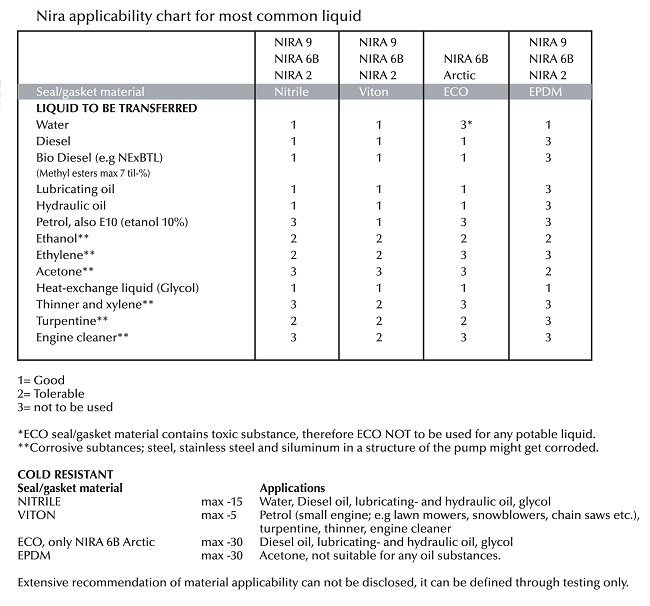 The information is for reference only, a comprehensive knowledge of materials requires testing.